Vendredi 2/08 de 18h30 à 20h30
Samedi 3/08 de 17h30 à 19h30
Entrée par la boutique. Ouverture de la salle 30mn avant. Sans réservation
Accès : METRO Vaugirard ou Volontaires (ligne 12)
BUS lignes 39, 70, 80 ou 89 - Arrêt « Cambronne-Lecourbe »
Participation libre à partir de 10 €
Les satsangs démarrent par une méditation silencieuse.
---
Friday August 2nd from 6:30pm to 8:30pm
Saturday August 3rd from 5:30pm to 7:30pm
Entry by the shop. Opening of the room 30 minutes before. Without reservation
Access: METRO Vaugirard or Volontaires (line 12)
BUS lines 39, 70, 80 or 89 - Stop "Cambronne-Lecourbe"
Free participation from 10 €
The satsangs start with a silent meditation
---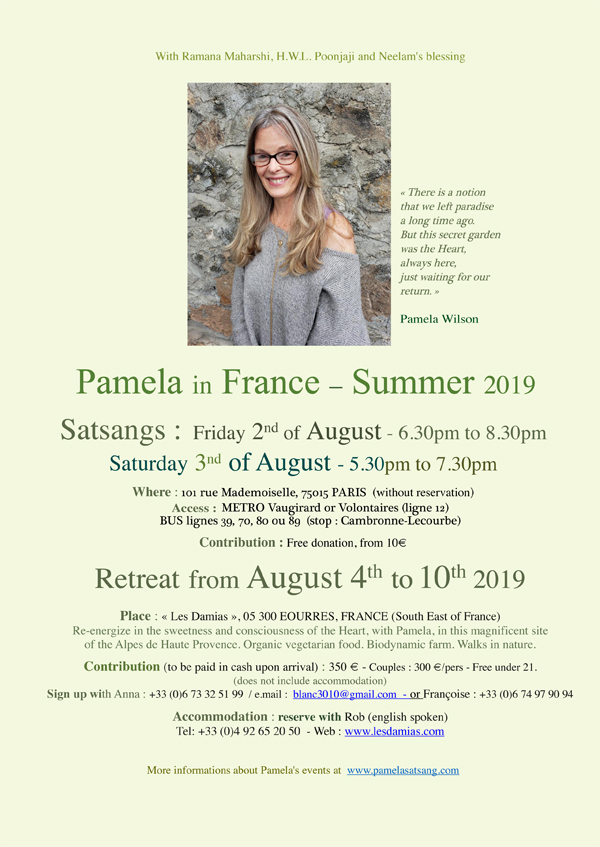 Click the following link to download the flyer in PDF format:
---
There is a notion that we left paradise a long time ago. But this secret garden was the Heart, always here, just waiting for our return - Pamela -
---